Maryland

410.484.2244

Florida

305.556.1000

QUICK FACTS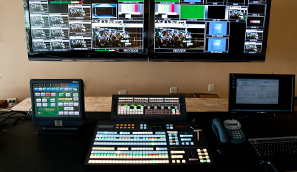 Most bettors experience live racing through the eyes of the camera and receive their race-day information from the graphics displayed on television screens. ISC will make sure that your patrons have all of the information they require, displayed to them with a high-tech look and feel. ISC's Video Production services are the cornerstone of our success. We provide our clients with all of the necessary equipment to produce a first-class broadcast production at an affordable price.
ISC provides our customers with a full broadcast control room designed to fit their individual needs. ISC can also supply trained technical staff to help operate the equipment. Our control rooms contain the best possible equipment and include our own proprietary products specifically designed for the racing industry.
Our 24-hour support system ensures that you will always look your best. With our turnkey system, you will have everything you need to stand out in this competitive simulcast market.
Available in standard and high definition
Full broadcast control room custom-designed to fit your needs
Trained technical staff provided
24/7 technical support
All necessary equipment is provided at an affordable price
Broadcast equipment meets all SMPTE standards for live video production