Maryland

410.484.2244

Florida

305.556.1000

QUICK FACTS
ISC supplies Timing Systems and services to Thoroughbred and Harness tracks across the country and around the world. Our systems are customized to the exact needs of individual tracks, so that we can offer both basic and highly advanced packages.
The timing accuracy is to 1 part per million and can be displayed in fifths, tenths or hundredths of a second. The software is operator-friendly, and each system will have a unique look thanks to our custom graphics.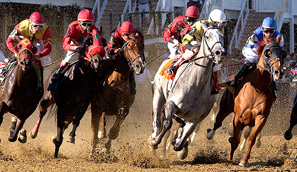 Printable reports show race times and the system status for each race. You can also provide your patrons with race times with our highly visible, low power consuming and low-maintenance displays. All communication to displays and spill lights is wireless. All of the sensors used are low voltage, high range (300 meters) and sunlight-immune.
Race times are supplied to the closed circuit TV system through data or direct video feeds and are compatible with AmTote, Sportech, United Tote and all graphics systems.
We constantly look for ways to update our hardware, software and other features so we can offer the most reliable, modern and accurate system possible. Best of all, we offer 24/7 technical support.
Timing accuracy to 1 part per million⎯displayed in fifths, tenths or hundredths
Operator-friendly software allows easy operation
Custom systems and graphics
Printable reports show race times and system status for each race
Highly visible, low power consuming, low-maintenance displays
Wireless communication to all displays and spill lights
Data or direct video feeds supply race times to the CCTV system
Data protocols compatible with AmTote, Sportech, United Tote and all graphics systems
Low voltage, high range (300 meters), sunlight-immune sensors
24/7 technical support