Maryland

410.484.2244

Florida

305.556.1000

QUICK FACTS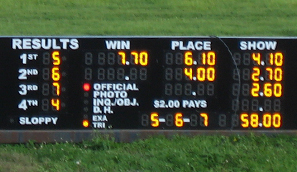 ISC offers highly visible, low-maintenance LED tote boards and equipment as an added service. We accept and work with data from all of the major tote companies and have in-house programmers to interface with others. It is often thought that this service can only be provided by a tote company; however, many tracks are now realizing they can lease tote boards from a third-party supplier.
The tote company simply provides ISC with the same data feed they give the closed circuit TV company, and we take it from there.
ISC also offers retrofit LED displays that easily mount on your existing board and provide framed sections that install in rough openings, should the board need to be updated.
LED displays are available in many colors and sizes. Whether it is a full-sized tote board or a remote odds board, we have the right equipment and experience for the job, and technical support is available 24/7.