Maryland

410.484.2244

Florida

305.556.1000

QUICK FACTS
ISC provides state-of-the-art Photo Finish systems to pari-mutuel racing facilities. Images and data are instantly transferred to judges and television. Results are received in seconds, and custom graphics enhance photos for presentation.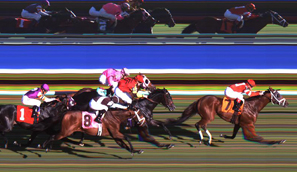 ISC's equipment and service are unmatched in the industry, and our camera line includes the latest Lynx "Professional" and "Fusion" color cameras that produce high-quality, tamperproof, time-encoded digital images. Supporting equipment such as computers, monitors, printers, digital scan convertors, adjustable camera mounts, mirror assemblies, etc., are always of the highest quality so that we can ensure reliability.
Features include thru-the-lens viewfinder, timing enabling, automatic capture mode, multiple region enhancements, serial wireless and more.
Digital images are high-quality, tamperproof and time-encoded
Supporting equipment is always of the highest quality to ensure reliability
Lynx "Professional" and "Fusion" color cameras capture the action
Instantaneous transfer of images and data to judges and television
Results in seconds
Custom graphics enhance the photos for presentation
Custom charting software