Maryland

410.484.2244

Florida

305.556.1000

QUICK FACTS
The Advanced Digital Graphics (ADG) package provides broadcast-quality, fully integrated 3D graphic displays for the racing industry.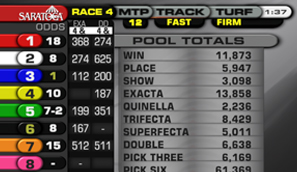 The ADG package is a Windows-based graphics product that takes continuous tote data and program information feeds to produce full broadcast-quality displays. These displays include odds displays, probable odds, daily doubles, pools and other exotic wagers as set by the tote company. With the integration of program information and full post-parade information, stats and other data are available for on-screen display.
All displays are custom-designed to give each track a unique look and to suit the track's specific needs. Our programming and design staff work directly with our customers to incorporate any special needs they may have. Whatever the need, the ISC ADG package can handle it. In fact, the entire system is designed for ease of operation – your operator can be trained to operate the system in less than an hour. 
Unlike many other graphic systems, bottom page changes have been integrated into the system so that it is no longer necessary to have a separate character generator for changes. Changes are entered only once, through an easy-to-use drop-down menu that allows the operator to enter changes for both full-screen pages and continuous changes. 
Other drop-down menus include picks, messages and race titles, to name a few. Corporate logos can be incorporated into the system, giving your marketing department the ability to use your television display to generate income. Used at more than 70 racetracks, the ADG package is the industry standard.
Broadcast-quality display
Integration of all information providers
Fully customizable displays
Simple to use with minimal training; point-and-click user interface
Windows platform
Statistical information display
Custom number indicators
Specialized pages and messages
3D graphics environment
Available in standard or high definition
Compatible with all tote and information vendors